OSTTRA is pleased to announce its recognition as the 'Post-Trade ETD Provider of the Year' at the FinanceFeeds Awards. This achievement underscores OSTTRA's commitment to innovation and excellence in the ETD post-trade landscape.
The accolade is a result of OSTTRA's ongoing efforts to simplify and optimise ETD post-trade processes. Collaborative endeavours with industry stakeholders have yielded significant improvements, including streamlined order IDs to enhance the give-up process and enhanced allocation records, reducing the need for manual commission schedule checks, thereby enhancing operational efficiency.
OSTTRA's robust connectivity with Clearing Houses has facilitated trade record enrichment through the sourcing of the Exchange Order ID, providing improved trade visibility. Additionally, direct client allocation submissions to Clearing Houses have minimised delays and offered real-time insights into trade clearing status.
Joanna Davies, Managing Director FX & Securities at OSTTRA, expressed appreciation for the recognition, stating, "This award is a testament to the dedication and collective efforts of our teams and the commitment of our valued ETD network participants."
FinanceFeeds acknowledged OSTTRA's contributions to the industry, noting, "As OSTTRA's achievements continue to shine, their remarkable contributions to the industry's evolution have not gone unnoticed. Our gratitude goes to OSTTRA and their team for their commitment to transforming the ETD post-trade landscape."
In conclusion, OSTTRA winning the 'Post-Trade ETD Provider of the Year' award affirms its commitment to delivering practical, impactful solutions in the ETD post-trade space. This recognition reflects OSTTRA's longstanding leadership and continued dedication to innovation in the industry.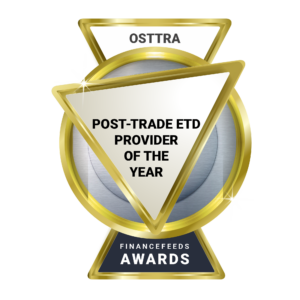 To find out more about our end-to-end ETD post-trade processing capabilities, please contact us at info@osttra.com.