triReduce's benchmark conversion service offers users an iterative approach to mitigating uncertainty about the future of legacy benchmark swaps. Swap market participants can proactively reduce both their gross and net exposure to legacy benchmarks at the same time as increasing their adoption of the alternative reference rate for each respective currency. This service will be provided for trades cleared in all major central counterparties (CCPs) as well as for trades referencing legacy benchmarks held in non-cleared portfolios. A single process, in which participants retain control of the transition within their portfolios, is key to managing the change in your own mid-market valuations. By ensuring all compression and conversion takes place iteratively and at each firm's own valuations, the service brings clarity to discussions about how to adopt alternative risk-free rates (RFRs) in swap portfolios.
Reviewing the data requirements
To better understand what is required, the image below illustrates triReduce's benchmark conversion service. As they do today, participants will submit their existing swap portfolios, where it is likely they will have legacy benchmark and alternative RFR referencing trades. This enables the service to compress where possible and convert into the alternative RFR where compression is not possible.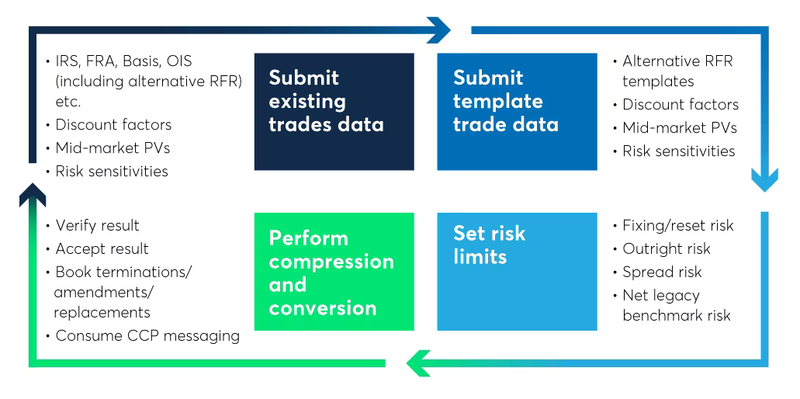 Participants will provide discount factors and their own mid-market valuations, as well as any measures of risk they would like to control through the process for their existing trades and for additional template trades. These template trades are a standard representation of alternative RFR trades that will be used to establish additional liquidity at specific maturities to facilitate the conversion.
With this information and the corresponding risk-based limits that participants define, triReduce's benchmark conversion service will return a proposal of fully terminated, amended and replacement trades that reduce exposure to legacy benchmarks in a controlled manner. Once accepted by each participant within a finite window of time, the proposal is passed on to the CCP for processing in the case of cleared trades.
Reduced legacy benchmark over-the-counter swap exposure
The result is a reduction in exposure to legacy benchmarks achieved through a simultaneous reduction of gross notional exposure and conversion of net risk exposure. TriOptima combines these two objectives and delivers outsized results by bringing together its world-leading portfolio compression network and new participants with core net ICE Libor over-the-counter swap portfolios (see below image).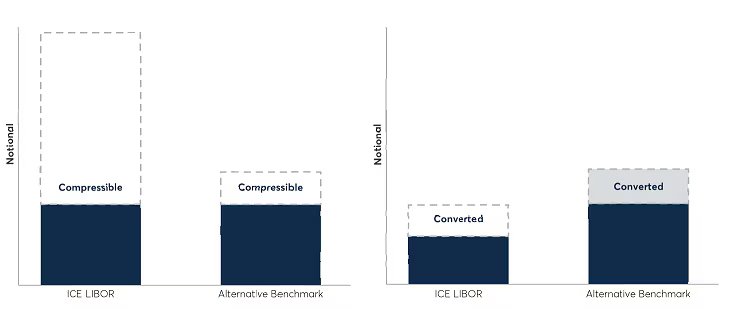 To discuss your benchmark conversion needs, contact info@osttra.com.